Neurologist reports
"We found the neurologist reports from epihunter to be very helpful during conversations with our consultant. The graphical overviews made it easier for us to compare the data month to month and track changes in seizure frequency. This was of particular interest as our son's medication dose had been increased and - through epihunter - we observed a decrease in absence seizures."
Jon & Laura, parents of Rafe (5), UK

Upon simple request we will provide the user with a report in PDF format with the following three sections to share with their consultant:
List view: easy to read monthly overview of seizure detections, their duration and contextual information logged by the user (example)
Calendar view: highly visible month's overview of epihunter use and seizure detections
EEG plots: upon special request, we can also export the raw EEG data (example)
Automated seizure video, including pre-ictal period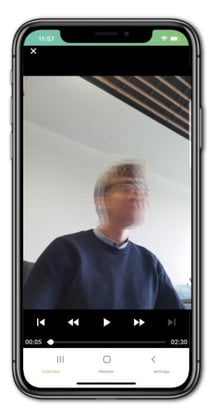 When a seizure is detected or logged by hand, epihunter automatically records a video. The video will start 30 seconds prior to the detected onset or logging, as well as up to 30 seconds after the seizure. This requires only the smartphone's camera and EEG headset, no other equipment is needed.
We believe that this simple yet powerful feature holds great triage and diagnosis opportunities by creating many more qualitative seizure videos.
"Video is a cornerstone in diagnosis and therapy optimisation. And pre-ictal [the moments prior to a seizure] video is of utmost interest for the treating physician."
Dr Alexander Rotenberg,

Neurologist at Boston Children's Hospital and Associate Professor of Neurology at Harvard Medical School
How it works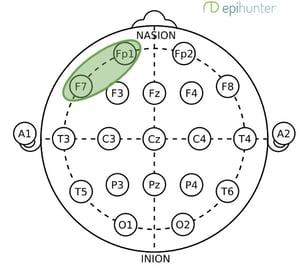 The wearable EEG headset uses dry gold-plated copper electrodes that are in direct contact with the skin on the forehead. The measurement electrodes are located at Fp1 and F7. The EEG signal is digitized and forwarded to the smartphone over Bluetooth. On the phone, the AI program continuously analyzes the incoming data.
The program is trained on the Fp1-F7 montage obtained from clinical EEG recordings. In our validation tests, both the sensitivity and positive predictive value were above 90%, yet please note that performance is different from case to case.

The detections, videos, user annotations and raw EEG data are all securely stored in the cloud. Users and their caregivers can use the epihunter Companion app to access and share this information. Upon request, we can summarize the information in a neurologist report, as described above.
Are you interested or want to learn more about the technical details: contact us now.
Download our brochure to share with peers.
Epihunter Clinical Validation

To further validate the epihunter solution, we are currently running a prospective validation study. The study will take place in top hospitals in Europe and the US. In this study, we will simultaneously record clinical video EEG and wearable epihunter EEG. Seizures detected by epihunter will be compared with seizures detected by the neurologist.
The study was funded by a New Therapy Grant of the Epilepsy Foundation (US). We expect the study results by end 2020.